Latest format for Missing Result in NOUN
If you took any examination, and eventually the Management body of National Open University of Nigeria, NOUN failed to provide you with your results, the next step to do is to simply make formal complaint of missing results.
Also Read ↔ Step by Step Procedure on How to Apply for Admission in NOUN
Please Note: When writing this letter, ensure that you attached your examination registration slip, so they will confirm it's really you and that you truly sat for the said paper.
Below is the formal method to formally write letter to NOUN Requesting For MISSING RESULT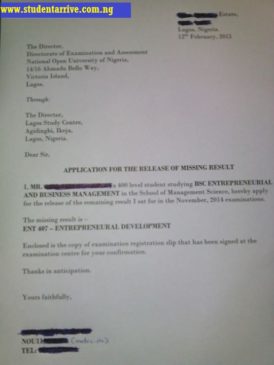 Your Address
Lagos, Nigeria (Your location)
12th June 2015 (The date)
The Director
Directorate of Examination and Assessment
National Open University of Nigeria,
14/16 Ahmadu Bello Way,
Victoria Island,
Lagos
Through:
The Director,
Lagos Study Centre,
Agidingbi, Ikeja,
Lagos, Nigeria.
Dear Sir,
APPLICATION FOR THE RELEASE OF MISSING RESULT
I, MR./Miss/Mrs (Your Name) a 400 level (add your level) student studying BSC ENTREPRENEURIAL AND BUSINESS MANAGEMENT in the school of Management Science, hereby apply for the release of the remaining result I sat for the November, 2018 examinations.(add your examination date here)
The Missing result is – ENT 407 – ENTREPRENEURIAL DEVELOPMENT
Enclosed is the copy of the examination registration slip that has been signed at the examination centre for your confirmation.
Thanks in anticipation.
Yours faithfully,
Add your name here:
Your study centre
Your telephone number.
Thank You.
READ MORE: HOW YOU CAN GET 30/30 IN YOUR TMA