Procedure on How to Apply for NOUN Admission
Studying with us gives a rewarding experience as we give you all the support you need to succeed. This article is all about Procedure on How to Apply for NOUN Admission
Undergraduate Programmes
An applicant for undergraduate admission into NOUN is normally expected to have a minimum of 5 O-level credits including English Language and Mathematics.
Additional requirements might apply for some programmes and these can be viewed after selecting the Programme and entry level at the Faculty's admission page.
To apply for a programme, select the Faculty, choose the programme and entry level so that the View Requirement button is enabled. Clicking this button will reveal the corresponding entry requirement and enable the Apply button on the pre-payment application page.
Fill in all the remaining details on the page before submitting.
On successful submission of the pre-payment form, you are redirected to Remita to obtain an RRR invoice which should be used to effect payment for the application form.
An applicant who pays online using a payment card will automatically obtain the online form which must be filled before submission.
Applicants who pay through a bank branch must click on "Continue After Payment" and enter their Unique ID and RRR. They are also given the opportunity to change the Programme applied for.
Applicants who had paid using an RRR generated last semester or earlier must restart the application process upto the point when they are re-directed to remita. They should now use the newly generated UniqueID with the old RRR used for payment when they click Proceed after payment.
In all cases a successful payment will lead to the generation of an online application form which should be filled before submission online. The admission process is automated and the outcome is virtually instantaneous!
Postgraduate Programmes
To qualify for admission into any of the postgraduate programmes of the University, a candidate must meet, among others, all matriculation requirements of at least five (5) credit passes including English Language and Mathematics. Some programmes accept at least a pass in Mathematics.
For Postgraduate Diploma Programmes, Candidates must possess either a minimum of pass Bachelors Degree in any discipline from a University recognised by the Senate of the NOUN OR a Higher National Diploma with a minimum of Lower Credit. For the Postgraduate Diploma in Legislative Drafting, the candidate must have been called to the Bar. Also for admission into the school of Business and Human Resource Management Postgraduate Diploma programmes, candidates with professional qualifications such as ACA, ACIS, ACIB, ACII, ACIA, etc may be considered on individual merit.
For Master degree programmes, candidates must possess either a Bachelors Degree with a minimum of second class lower in the relevant field of study from a University recongnised by the Senate of the NOUN. However, holders of lower classification and with a minimum of 2 years of relevant post-qualification experience may be considered on individual merit OR a Postgraduate Diploma in related field of study from a recongnised University OR A Higher National Diploma with a minimum of Upper Credit in the relevant field of study. Candidate with membership certificate of relevant professional bodies may apply for the Master of Business (MBA) programme.
For the Doctor of Philosophy Degree prorammes, candidates must possess a masters degree in relevant field of study from a University recongised by the Senate of the NOUN with a minimum score average of not less than 60% or a cumulative Grade Point Average (CGPA) of 3.5 on a 5-point scale.
Step by Step Procedure on How to Apply for Admission
Introduction
Hello, In this guide, I will walk you through how to process admission to the National Open University of Nigeria. That is what this site is all about, I write about the tedious process and it becomes simple.
Since this post is about processing admission, I am assuming that you a new to the site and that you do not know how things work.
Getting Started
It will be nice to access the website with your laptop(mobile devices work too, but for convenience, use a laptop. I will provide screenshots for both laptop and mobile phone regardless) You need to have decided the programme you want to study.
Buying the Admission Form If you intend to do an undergraduate programme, the price for the form is N5,000 ( + 200 Remita charge). If you intend to do a post-graduate programme, the price for the form is N7,500 ( + 200 Remita charge).
Now follow these steps: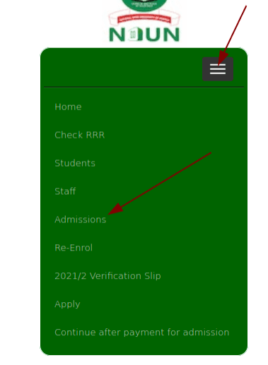 Click on Admissions will redirect you to another subdomain https://www.admissions.nouonline.net
Click on Apply and select the category of your desired programme( Undergraduate or Post Graduate)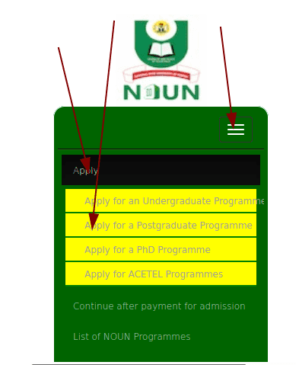 This post will NOT cover PhD Programme and ACETEL Programme application steps
I will go ahead and process a postgraduate programme admission. This step is the same for undergraduates. The only difference is the requirements. You need to have graduated before you apply for a postgraduate programme. Every course has its requirement, but generally, you need to have 5 Credits in your O level (WAEC or NECO) including Mathematics and English.
I will click Apply for a Postgraduate Programme because that is what I want.
Scroll down, and click the Faculty your programme falls under.
For instance, if you click the Faculty of Education under the postgraduate programmes, you will be presented with these courses:
Click on the programme you have in mind after selecting the faculty. You can view the specific requirements after choosing the entry-level. It is usually 100 level. Unless you want direct entry into 200 Level.
Scroll down and click the Apply button if you meet the requirements.
Fill out this carefully
The NIN(National Identity Number) is optional.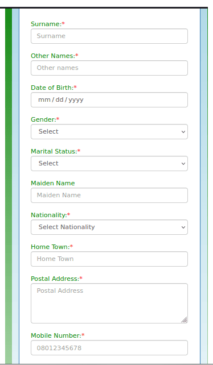 You must not make any mistake
After you have filled it, click on Apply. you will get an email that has your Reg ID, copy and paste it into the box provided. and click proceed.
The price for postgraduate form is 7500, the undergraduate will be would be 5000. Now click on Pay
This will take you to Remita with your details prefilled
Take note of your Remita Retrieval Reference (RRR). You can take this RRR to any bank and make a payment. Or you can pay online.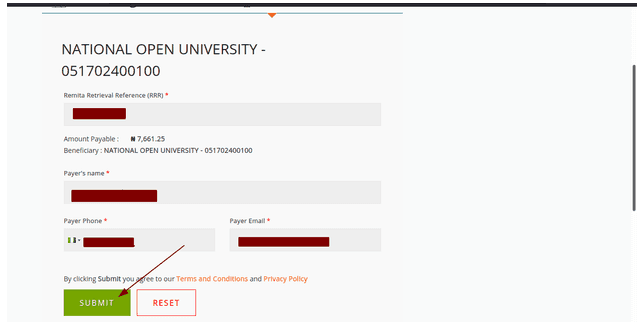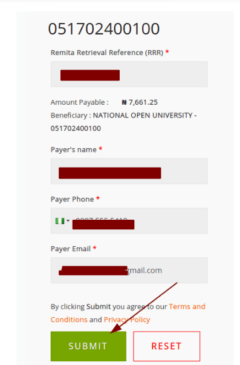 Noticed how 7500 changed to 7661? Additional 161 Naira. That is what Remita charges.
To pay online, click on the Submit Button. This will take you to this page where you have options of payment methods:
I decided to use the USSD option, you can pay with your CARD or internet banking platforms. It is pretty straightforward.
After you have made the payment, either by going to a Bank or paying online, you should note your RRR(12 digits separated by a hyphen '-' at every 4 digits). It will be sent to your email anyway. 😎 👨‍💻
Applying for the Admission
After you have paid for the form successfully, now you need to complete the process.
Go to https://www.admissions.nouonline.net and click on Continue after payment for admission and select the category you paid for.
It will take you to a page where you need to input the RRR(with the hyphens '-') and select the programme you initially choose when buying the form, then click Proceed
It will bring a page that says Transaction Successful, kindly click on Fill the form… button
Fill in the following:
Note that some data will be prefilled with the information you used when purchasing your form.
All fields that has asterisk(*) needs to be filled
If you are using two O level, you can fill the SECOND SITTING section. If not, leave it black
First Degree Section for Post Graduate and Direct Entry applicants.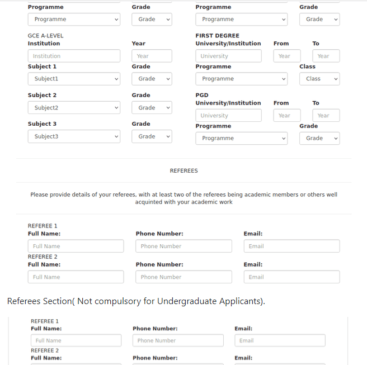 Referees Section( Not compulsory for Undergraduate Applicants).
Preview Form to make sure there is no mistake and then Submit.
You should get this:
Click on Admission Letter → Input your RRR, you should be able to print your admission letter.
Conclusion Congratulations. You have been admitted into the National Open University of Nigeria. Now the next thing to do is to upload your credential and go to your chosen Study Centre for verification and issuance of Matriculation number.
National Open University of Nigeria, NOUN Registerable Courses and Fees this Semester 2022
This page is basically for fresh and returning students of the National Open University of Nigeria (NOUN). This is the current NOUN school fees for the 2022/2023 academic session, which have been released by the school senate and made public, and we have used this opportunity, to publish this information publicly here on Student Arrive.
The management board of the National Open University of Nigeria (NOUN) has just released the updated school fees schedule for all newly admitted students and old.
Take note, that if you had applied for admission into the National Open University of Nigeria (NOUN) or you are already a student, it is advisable, that you know the current NOUN Courses Outline and school fees for all students, and this information will help you, in avoiding making mistakes. Thus, this Page provides NOUN Registerable Courses and fees this semester for all levels and departments.
Here, you'll get to know three (3) things namely; i.) Your Registerable Courses, ii.) Exact fees to pay, and iii.) The number of elective Courses to register for this semester.
List of the National Open University of Nigeria, NOUN Faculties
Select your Faculty below:
Quick Links:
NOUN School Fees for 2021/2022 [Undergraduate
477